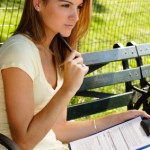 You have heard about everything you're "supposed" to do to get ready for the "real world" while you're still in college. Your parents asked you if you've stopped by Career Services yet, to start creating a resume for an internship when you're still a freshman. And of course, you haven't. But in fact, there are many things —at least fifteen that I can think of—you can be doing, from your first day of college, to prepare for the bleak reality of the adult world waiting for you when you graduate. Some of these items are, in fact, simple attitudes,
modi operandi
for being a proactive, self-advocating adult, building your own equity as a professional. They include….
Maximize your GPA. Yes, it counts! See my post: Does Your College GPA Matter?
Take the GRE, GMAT or LSAT while you're still in college. See my post: Take the GMAT While You're Still Smart!
Self-advocate: be proactive, not passive. Throughout our educational lives, we are taught to be compliant followers. Cooperate in class, sit still, raise your hand, listen well, take notes, and regurgitate the content on the test. Wait until the new curriculum comes out to sign up for next semester's courses. But in fact, the adult world is not that way. Job opportunities will not come out in spring of your senior year of college so you can register for them. No one will force you to research jobs, or go interview for one. The world is actually quite indifferent to your success or failure. Beginning in college, it will help you to begin to advocate for yourself, with professors and potential employers. You've got to initiate the first move.
Be one year ahead of your classmates.

 Do you have any friends or siblings who are a year or two ahead of you? What are they doing to launch their careers right now? Emulate whatever they are doing, rather than what the peers in your grade are doing, because most likely your peers are already behind the 8-ball. Are your slightly-older friends interviewing for internships? You should be too. Are they seeking research opportunities? Do that too.

Seek professors as mentors. Take the initiative to be your professor's favorite student. Sit in the front and ask questions. Go see the professor during office hours, to discuss the subject, not just to complain about a grade or ask for help. Find out that professor's scholarly interests, and if they jive with your own, volunteer to assist in research. You need to go beyond having a half-hearted advisor; seek to become a professor's true protegé. When a professional opportunity for a student crosses his or her desk, you want to be on that professor's short list. And when you need a recommendation for graduate school, you want to have several professors who will go out of their way to write a glowing endorsement even on tight timing.
Initiate undergraduate research. If you have any interest in pursuing graduate work, especially doctoral studies, it will take more than a 4.0 to get you there. Graduate school admissions committees want to see that you have already had some successful experience in research (and it is probably the best way to earn faculty recommendations). If you are a prospective Ph.D. student, do take statistics and/or a research methods course as an undergrad to show you're not afraid of numbers! Even if you are not interested in grad school, doing research in college gives you professional expertise in your field that you can showcase when seeking an internship or entry level position. If your college offers an opportunity to do an honors thesis, do not consider it optional—try to qualify for it. And seek the opportunity to publish in an undergraduate journal!
Visit career services. Your college's career center conveniently offers workshops, resume writing help, career fairs, and on-campus interview opportunities. All free. See my post: Your College's Career Center.
Initiate informational interviews. See my post: What Is Informational Interviewing?
Find internships! Simplyhired.com or USAjobs.gov are two good places to start. If you can afford it, willingness to do an unpaid internship will broaden your opportunities to explore different fields. You can even ask a friend of the family in a field of interest if you can do a short project or briefly shadow that person in the job. The goal is: exposure and experience!
Do volunteer work. 

For medical, education and helping professions, it is essential to develop your human contact capabilites, not just academic skills. Volunteer work can help you assess the rewards and frustrations of dealing with clients in your prospective field, as well as different working environments. It may strengthen your graduate school application. And it will undoubtedly enhance your experience as a human being. It may seem like you do not have time, but actually, you will never have more time than you do right now to "give back." Remember how you have always said you want to change the world? No time like the present!

Seek paid employment.

If paid work is related to your prospective profession, great; but even if it is semi-skilled unrelated work, in a service or retail field, it offers value. There is nothing more noble than self-sufficiency, responsibility and elbow grease, and you can be sure future employers will be impressed with a proven work ethic. There is always something to be learned from every experience, from supervisors, co-workers and customers. 

Look for leadership opportunities in student organizations.

Flex your leadership muscles in a school club, as an enthusiastic member who grows the club's size and influence, an officer who leads the organization to accomplish new initiatives, or even as the founder of a new club that meets a need for the student body. You don't become a leader overnight, and school clubs offer a low-risk way to practice. Clubs can also build connections with administrators, students, alumni, professionals (i.e., speakers, sponsors) that will be mutually beneficial beyond the college years.

Try an entrepreneurial venture.

Your idea could be the next Apple, Google, FedEx or Dell Computer (college students all!). In college, your brain is constantly being fed by stimulating ideas, brilliant peers, and inspiring faculty and grad students. You have time to stay up late and think, or brainstorm, with like-minded students, who could become business partners. Some universities offer startup lab resources, and it seems that startup lab programs for college students are popping up all over the web. If you keep your grades up while working on a project, it's a pretty low risk way to build your resume at minimum and maybe create a successful, innovative new business.

Trade in Facebook for LinkedIn. See my post: Why Should a College Student Be on LinkedIn?
Network–with professors, speakers, alumni, and students.

Even getting a 4.0 is no excuse to hide in your room. It is so easy to meet people in a university environment, actually easier than out in the business world (through student organizations, going to hear distinguished speakers, getting to know professors who are leaders in their field, and forming perhaps lifelong connections with other students who are "going somewhere" in their lives and careers). College contacts are not your only networking resource; classmates from high school, camp friends, family friends from childhood, can all be potential professional contacts now that you are grown up. Not only should you continually connect with people through in-person networking, but you should also do something that is easier today than it has ever been, due to the internet: stay in touch.